Missing your old yearbook? There are some extras for sale $5 each. See flyer below

Baseball and softball are canceled today 5/3 with a make up date of next Wednesday, May 11 at Newark. Thank You!!

The baseball and softball games scheduled with Plano which were to be played at Serena on Thursday April 21 have been cancelled. Instead, our baseball and softball teams will travel to Somonauk on Thursday April 21 to make up the games that were snowed out on 4/18.

Due to weather conditions, cold / wind, there will be no JV softball game at Indian Creek tonight 4/14.

Break out the brooms…Huskers baseball and softball swept Hiawatha. The Lady Huskers beat Hiawatha 11-2. Katie Baker led with 3 hits as Maddi Glade got the win on the mound. The Serena Huskers survived (12-9 win) a day when we didn't pitch well or play our best defense on a very windy day. Tanner Faivre led the offense with 5 hits and Leo Brennan homered to lead the Husker offense. Cam Figgins credited with the win in relief of Hudson Stafford. Dylan Cartwright finished the game. 4-4 overall and 2-0 in conference.

Congratulations to the Lady Huskers/Huskers as they took two from Hiawatha yesterday afternoon from Serena. Our Huskers beat Hiawatha 14-4 as Cole Shannon had 3 hits and Carson Baker got the win on the mound. Our Lady Huskers beat Hiawatha 11-1 as Paisley Twait had 4 hits and Maddi Glade got the win on the mound.
FFA Pork Chop Supper is Sat. 4/23. Drive thru only from 5-8. Purchase tickets in advance from a FFA member or buy at the door.

Due to unplayable conditions at both locations, and the forecasted weather, Thursday's and Friday's baseball and softball games between Serena and IMSA have been cancelled. We have rescheduled these games to be played as doubleheaders on Saturday May 14, starting at 2 p.m. at Serena.

Congratulations to the Lady Huskers who were able to pick up a great win, last night, against a solid Woodland team. The Lady Huskers hit the ball well last night and played solid defense behind Maddie Glade's phenomenal pitching performance. She had 11 strikeouts and zero walks. Paisley Twait and Lanee Cole had back to back home runs to get us started on a 13-2 victory over Woodland.

Tonight's (4/1) baseball/softball games have been canceled.

Yesterday afternoon was the home opener for Husker baseball and softball against the Ottawa Pirates. Our boys lost 6-1 Our ladies won 9-3. Paisley Twait homered and RayElle Brennan had 3 hits. Next games scheduled are for the Jacksonville Tournament on March 25/26
Finally, back to live performances!! Last call to come support Serena High's Drama Club in "Just Another High School Play" See flyer for details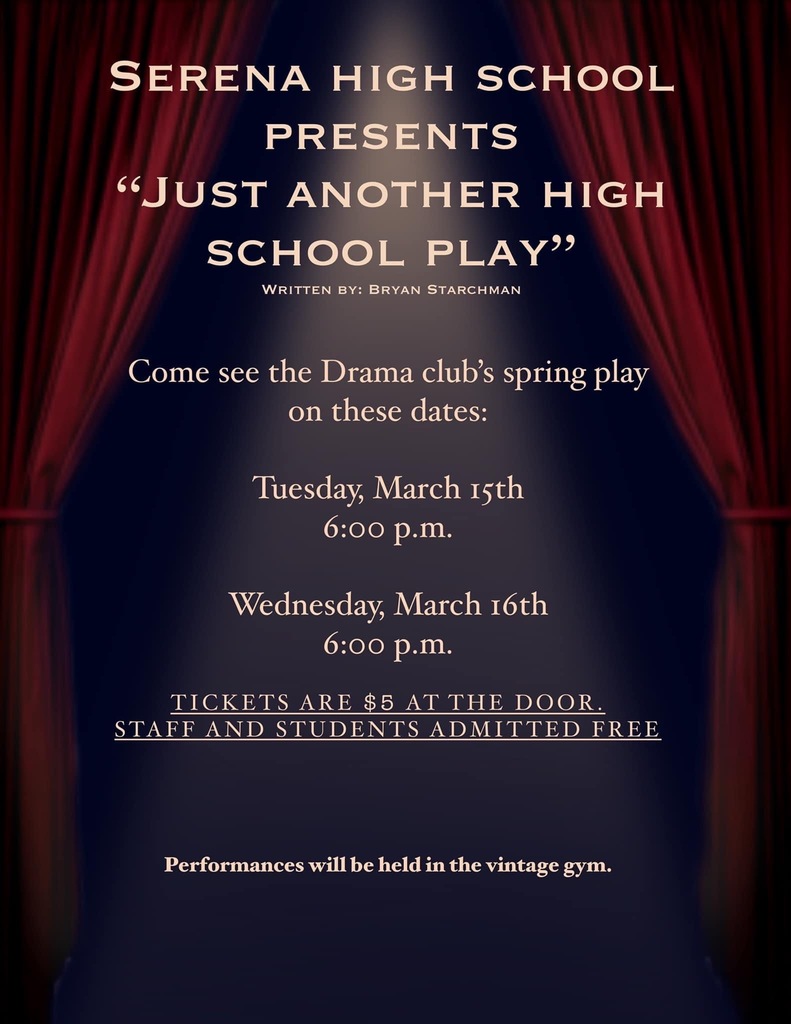 Tonight 3/3 @ 7 our Lady Huskers will take on Neoga at Redbird Area.

If you can't make it down state to watch the Lady Huskers you still have viewing options!!!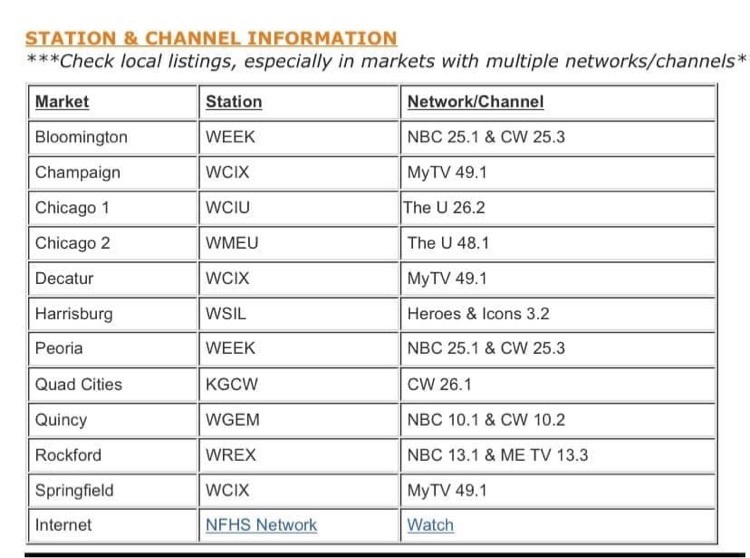 Good Morning Tonight (2/24) the Lady Huskers will try to punch deeper into the post season at HBR. Once again tickets should be purchased before hand as NO tickets will be sold at the door. Here is the link to purchase tickets for tonight. Please let us know if you have any questions.
https://gofan.co/app/events/534879?schoolId=IL15512

Good morning! I.H.S.A. Hinckley Big Rock Girls Basketball Sectional. Serena will play on Tuesday February 22 at 6 p.m. Our opponent for this game is Hinckley Big Rock There will be no cash sales, all tickets must be purchased on "Gofan" allow extra time to get into the game because of the e-ticket situation.
https://gofan.co/app/school/IL15512

High School Sports for this week, and next, and the following Monday February 14 Girls basketball regional at Midland High School Game time 6 p.m. Katie is 4 points away from breaking the all time girls scoring record !!! Tuesday February 15 Boys basketball at Seneca 5:30 JV start followed by varsity Wednesday February 16 Boys home basketball game - re-scheduled game with Hiawatha 5:30 JV game followed by varsity Senior Night ceremony at 6:30. Thursday February 16 Girls basketball regional championship at Midland 7 p.m. game time. Friday February 17 Sweethearts Ball School dismisses at 11:15 Please have practices done early so kids can go to dinner etc. Boys can set up the gym for Saturday after 5. Saturday February 18 Boys home basketball game IHSA Regionals start Serena vs. Grant Park at 5 p.m. Tickets open at 4. Next week: Wednesday February 23 Boys basketball Regional semi finals - Serena hosting 2 games - 6:00 p.m. & 7:30 p.m. Friday February 25 Boys basketball Regional championship - Serena hosting 7:00 p.m. - 1 game Monday February 28 Girls basketball - IHSA Super-sectional final - Serena Host 7 p.m. start

Congratulations to both the Lady Huskers and the Huskers on their basketball wins last night!! Leading the Lady Huskers and their 52-33 win over Newark was Katie Baker with 22 points. Reese Cole and Jenna Setchell rounded out the top three scorers with 11 points each. 26-2 overall and 7-0 in conference play. Huskers find a way to win! Wasn't pretty versus a gritty and tough Earlville squad. Serena moves to 13-11 and advances to the LTC semis vs #1 seed Bobcats. Huskers 71 - Raiders 67 Figgins - 31 Muffler - 9 Brad Armour - 7 Hart - 6 Shugrue - 6 Richie Armour - 6

Congratulations to our Lady Huskers for last night's 66-19 win over DePue. Katie Baker led the Lady Huskers with a double-double: 21 points and 10 steals. Jenna Setchell was the second highest scorer with 11 points and Makayla McNally rounded out the top three with 10 points. McNally and Ali Linder both pulled down 6 boards making them the lead rebounders. Next game is on 1/31 vs Newark.