NORWAY AFTER THE BELL CONNECTION
TUESDAYS AND THURSDAYS AT THE NORWAY COMMUNITY BUILDING
Community Unit #2, The Norway Methodist Church, and the Norway Improvement League are partnering to bring the Norway After the Bell Connection (NABC) program to the Community Unit #2 School District. This program will be Tuesday and Thursday afternoons from 3:10 – 5:30pm at the Norway Community Building. NABC follows the district calendar concerning early outs and days off. This is not a daycare program, but an after school homework help and tutoring styled program for all 1-12 grade students in Serena CUSD #2.
This program will target 1st through 12th graders with emphasis on a place to do homework with Internet access. The Norway Community Building is an access point for the School District so students can log in with their Chromebooks and do assignments. This program provides free homework help and tutoring style services for any student grades 1-12 that are part of Serena CUSD #2.
Busing is available to drop students at the Norway Building after school. Parents are responsible for pick-up by 5:30 p.m.
This program is free of charge and supported by a grant from the United Methodist Foundation of Northern Illinois Conference and other community churches, organizations, and individuals. Registration is required before any student is eligible to attend. A registration form is avaialbe through the link below or in the Main Offices at each school.
CLICK HERE FOR REGISTRATION FORM
Send completed registration forms to:
Serena CUSD #2
2283 N. 3812 Rd. - Box 107
Serena, IL 60549
For more information contact Pat Maloney at 815-791-3417 or 815-786-7229.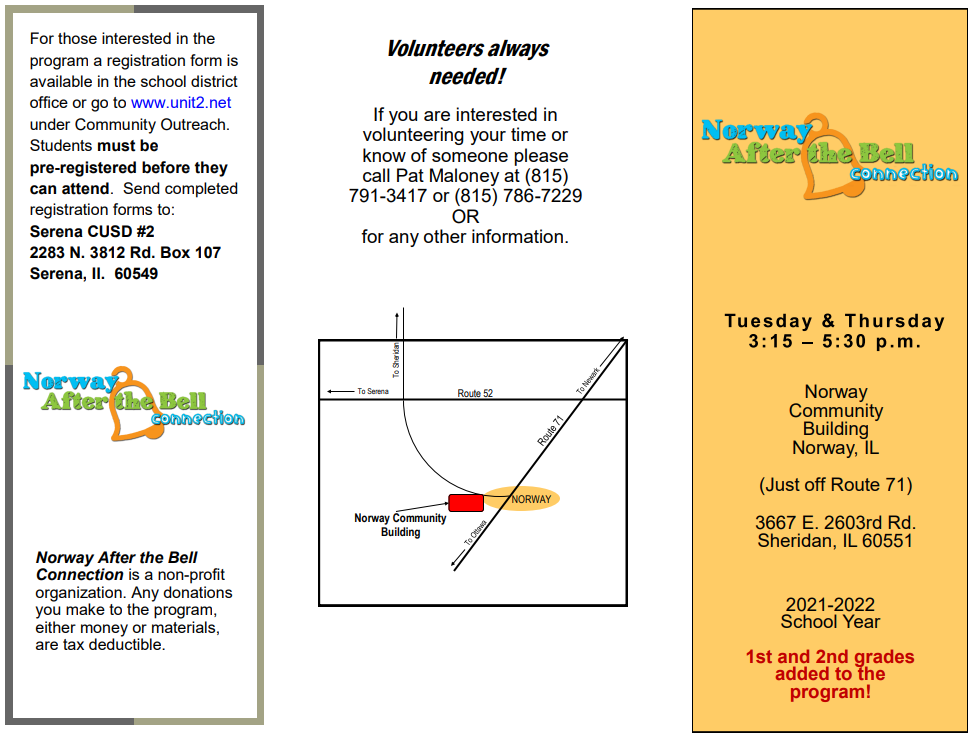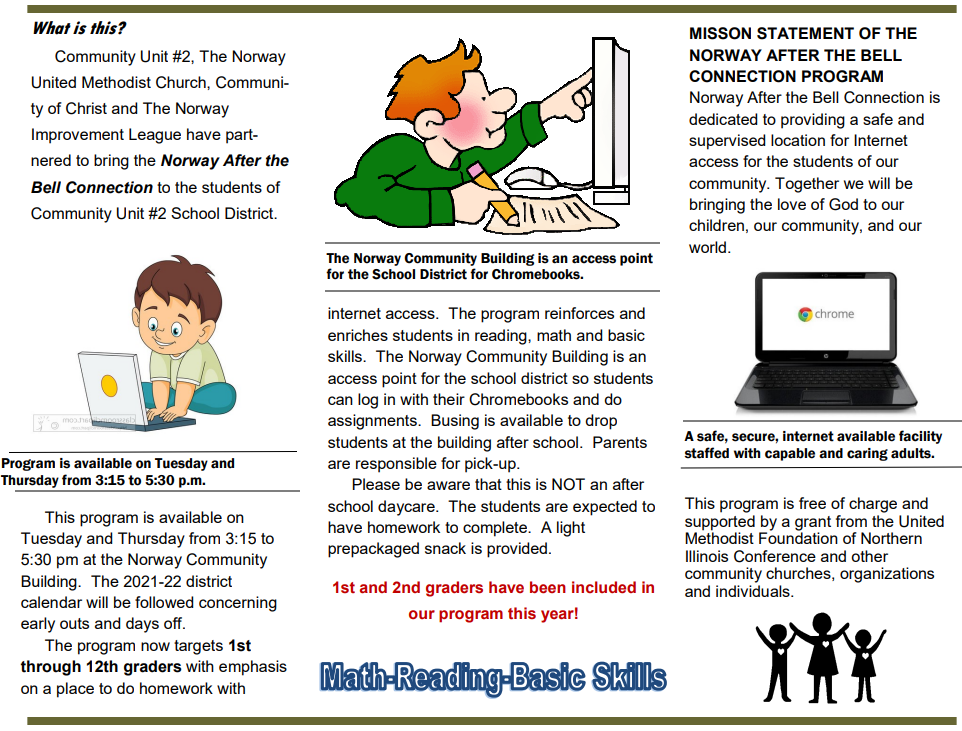 Norway After the Bell Connection (NABC) Covid-19 Requirements
Face Masks and Personal Protective Equipment
Per ISBE, IDPH, and Governor Pritzker, all students, and staff, who enter the building must wear a face mask. Families are responsible for providing their child with a mask each day. Families are asked to wash or provide a new mask each day to prevent the spread of germs. NABC will have a limited number of masks available for emergency situations.
Please talk to your child about the requirement to wear a mask while at NABC. Per ISBE, masks must be always worn while in the building.
Social Distancing
Per ISBE, social distancing guidelines must be followed within the NABC setting as much as possible. Students will be encouraged to maintain social distancing guidelines while in the foyer, using restrooms, and during classroom activities. Movement throughout the building will be limited to prevent the spread of any germs. Any movement that does occur throughout the building (such as restroom breaks and dismissal times) may be staggered to help students maintain social distancing.
Hygiene
Students will be encouraged to wash their hands and use hand sanitizer. This will help to prevent the spread of COVID-19.
Sanitation and Cleaning
Staff will clean and sanitize work areas before student arrival and after class.


Health Screenings
Students and staff should not report to school or NABC if they are displaying any symptoms that are like COVID-19. Students and staff are encouraged to stay home when not feeling well.

The following symptoms have been associated with COVID-19:
· A temperature of 100.4 Fahrenheit or greater AND/OR
o Cough
o Sore throat
o Fever/Chills
o Headache
o Fatigue
o Shortness of breath or difficulty breathing
o Nausea or vomiting
o Diarrhea
o Loss of taste or smell


***If you have had close contact with a person who has been diagnosed with COVID-19, please remain home until further instruction is given. ***
Any students or staff who are displaying symptoms associated with COVID-19 will report to the lead NABC staff member for a temperature check and screening. Students or staff displaying COVID like symptoms will be taken to a private area away from other students and staff. Students will remain in the designated area until a parent/guardian or other authorized contact is able to pick the student up. Students who have had close contact with anyone testing positive for COVID-19 must follow the IDPH guidelines which may include self-quarantine.
Large Activities/School Events & Programs
Currently, we are unable to have any type of large group in person type gatherings such as: open houses, recess, etc. NABC will make every effort to reinstate programs once COVID restrictions have been lifted. Changes will be communicated to parents as they occur.

Building Visitors
NABC will be restricting access to outside visitors to NABC until COVID restrictions are lifted. Pickups will be staggered if need be. Drop off and pick up will be done at the front door entrance.
Shared Objects
Students are discouraged from sharing items or personal belongings.
Food
Snacks will be provided in single serve packages to prevent the spread of germs.


Drinking Fountains
Students are strongly encouraged to bring their own water bottle. Drinking Fountains are not available for refill.


Students Returning Following an Illness
At this time, Community Unit 2 and health department guidelines will be implemented in helping decide when it is safe for staff or students to return to school/work following a COVID-19 related absence. It is important to note that guidelines can change at any time based on new or developing information emerging from our local health department, IDPH, or the CDC. We strongly encourage parents to reach out to the child's building principal if they have unanswered questions or concerns regarding this latter.

Click here for Covid Requirements